Introduction
The OU-ISIR Gait Database, Multi-View Large Population Dataset (OU-MVLP) is meant to aid research efforts in the general area of developing, testing and evaluating algorithms for cross-view gait recognition. The Institute of Scientific and Industrial Research (ISIR), Osaka University (OU) has copyright in the collection of gait video and associated data and serves as a distributor of the OU-ISIR Gait Database.

The data was collected in conjunction with an experience-based long-run exhibition of video-based gait analysis at a science museum. The approved informed consent was obtained from all the subjects in this dataset. The dataset consists of 10,307 subjects (5,114 males and 5,193 females with various ages, ranging from 2 to 87 years) from 14 view angles, ranging 0&deg-90&deg, 180&deg-270&deg. Gait images of 1,280 x 980 pixels at 25 fps are captured by seven network cameras (Cam1-7) placed at intervals of 15-deg azimuth angles along a quarter of a circle whose center coincides with the center of the walking course. Its radius is approximately 8 m and height is approximately 5 m.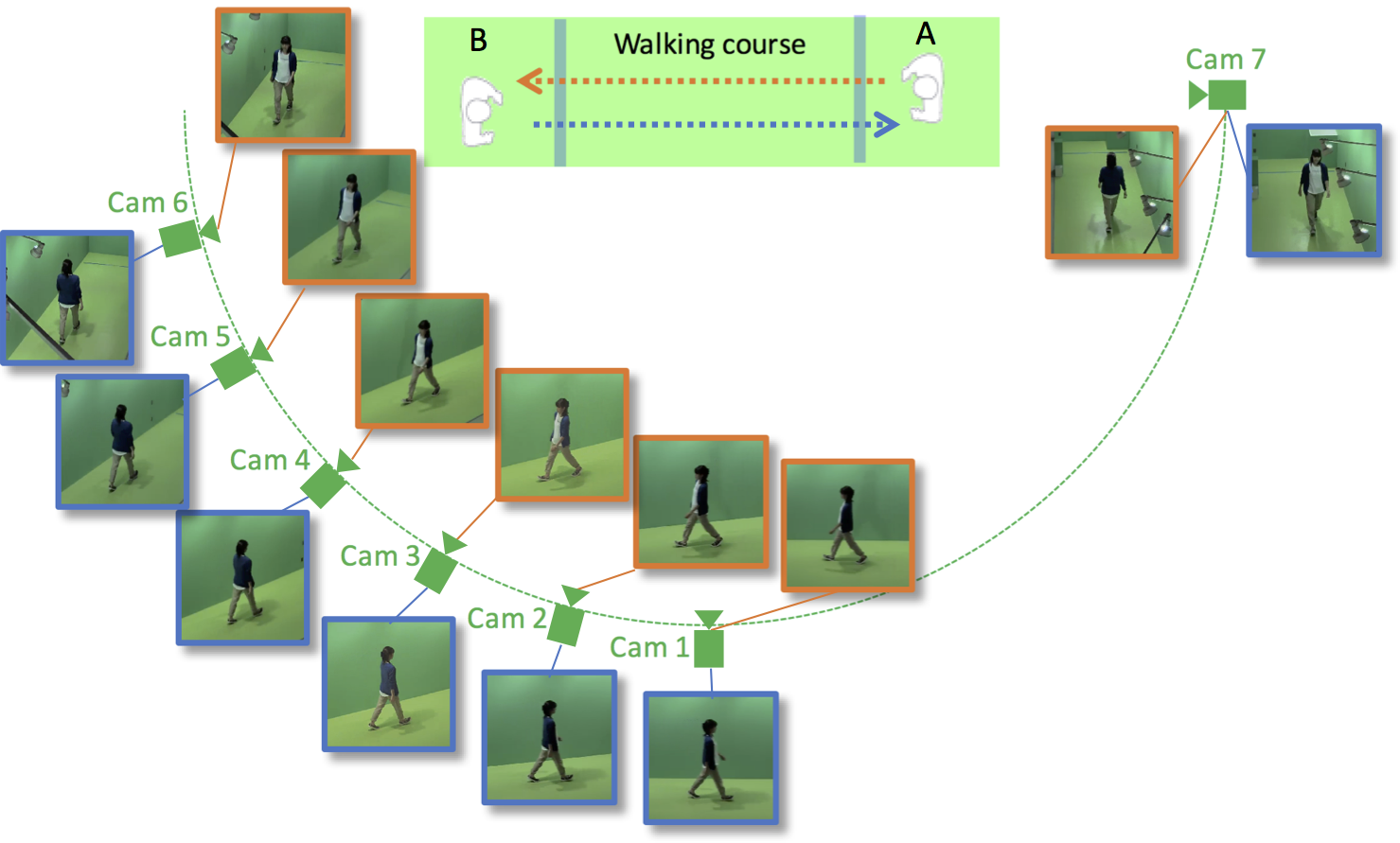 The subject repeat forward (A to B) and backward (B to A) walking twice of each, 28 gait image sequences (=7 (cameras) x 2 (forward and backward) x 2 (twice)) can be captured per one subject. The view angle of our dataset is defined as follows.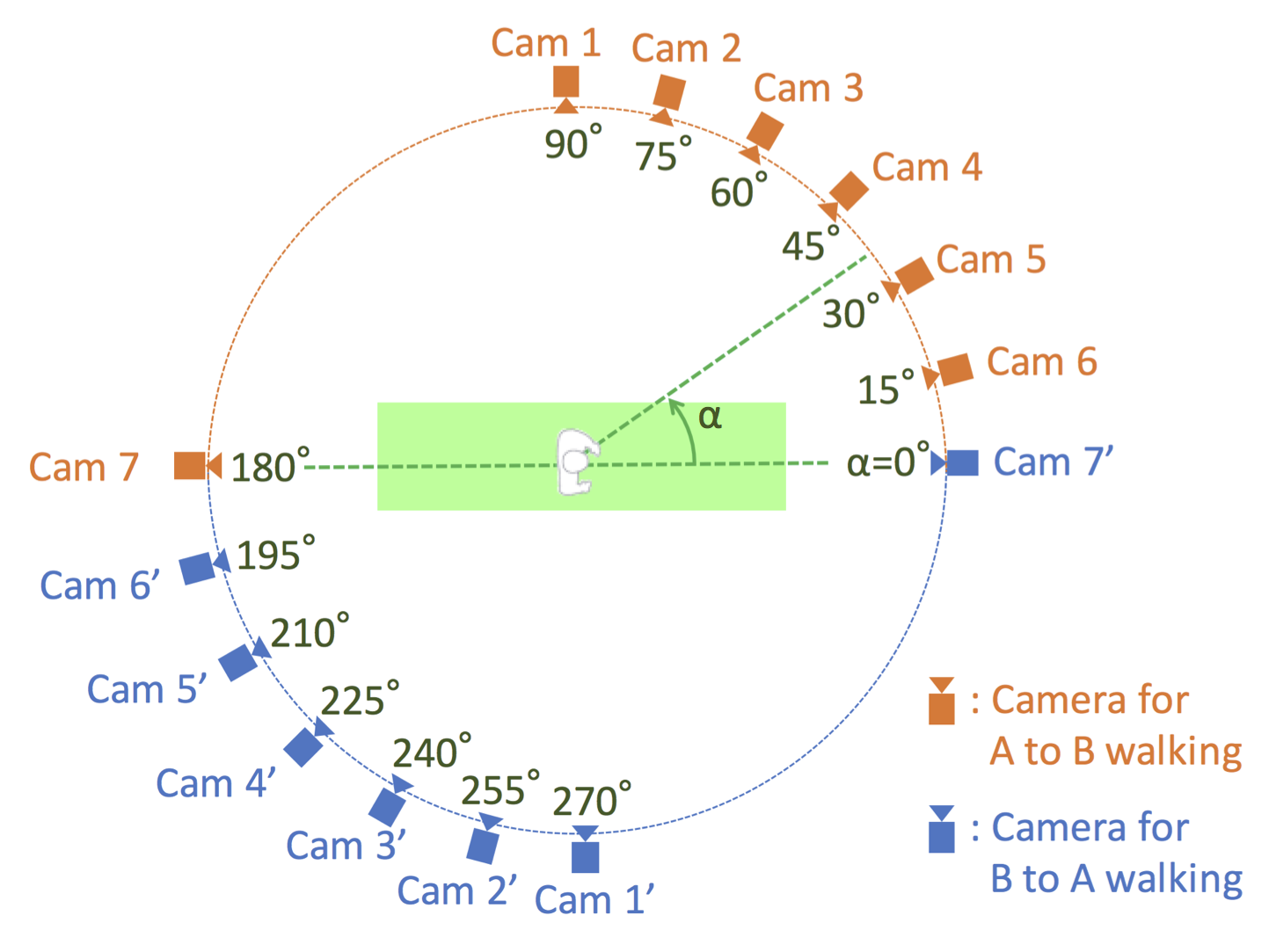 N. Takemura, Y. Makihara, D. Muramatsu, T. Echigo, and Y. Yagi, " Multi-view large population gait dataset and its performance evaluation for cross-view gait recognition", IPSJ Trans. on Computer Vision and Applications, Vol. 10, No. 4, pp. 1-14, Feb. 2018. [Bib]
Dataset
The entire data set was divided into two disjoint subsets, i.e., training and testing set, that both have almost the same size.
Examples of silhouette sequence ( view angle = 90&deg ) are shown below.

Examples of size-normalized GEI for each view angles, are shown in the following figure.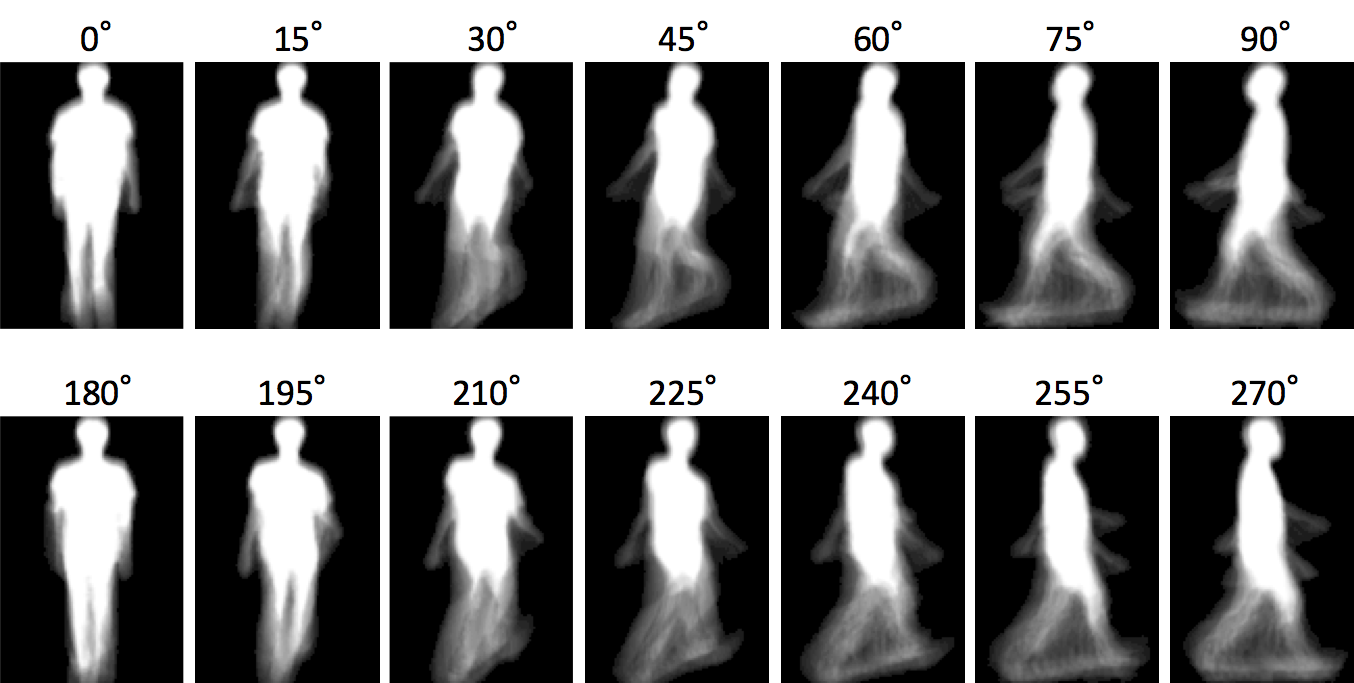 How to get the dataset?
To advance the state-of-the-art in gait-based application, this dataset including
a set of size-normalized GEI, silhouette sequences, subject ID list ( training, probe and gallery set ) and silhouette frame list (frames used for generating GEI )
could be downloaded as a zip file with password protection and the password will be issued on a case-by-case basis. To receive the password, the requestor must send
the release agreement signed by a legal representative of your institution
(e.g., your supervisor if you are a student) to the database administrator by mail, e-mail, or FAX.
Dataset

---




The database administrator

Department of Intelligent Media, The Institute of Scientific and Industrial Research, Osaka University
Address: 8-1 Mihogaoka, Ibaraki, Osaka, 567-0047, JAPAN

FAX: +81-6-6877-4375.